Returns and exchanges: online retailers must get it right
Managing product returns is one of the biggest logistical challenges that online retailers face today. Discover how to get started.
eCommerce giants like Zappos, THE ICONIC, ASOS and Amazon have set an exacting precedent – consumers now expect the ability to return or exchange a product that doesn't fit, or is the wrong colour, or was damaged in transit. And they want the online retailer to make it as easy as possible.
The good news is that if you get this 'logistical challenge' right, you could be rewarded with repeat business, bigger basket sizes, and more loyal shoppers.
A recent Australia Post survey into online shoppers' attitudes shows that consumer fears around returning faulty or unsuitable products is falling. In 2012, 30% of consumers were worried about not being able to return products to e-tailers. Today, that figure is 24%1. Consumers are more confident - and with more confidence comes greater propensity to purchase.
Another study found that up to 95% of customers will spend again at an online store if they have previously had a positive returns experience. On the flip side, up to 85% of customers won't comeback after a messy experience2. So it's crucial to get your returns policy right – particularly for pureplay e-tailers competing with the high street. These are the main issues faced by online retailers, and how to overcome them.
Getting started
If you don't have a returns policy in place – or, it's vague and unclear – look at what your competitors are doing and try to better them. It's all about establishing trust and reassuring your customers that they can easily return a product that doesn't meet their expectations.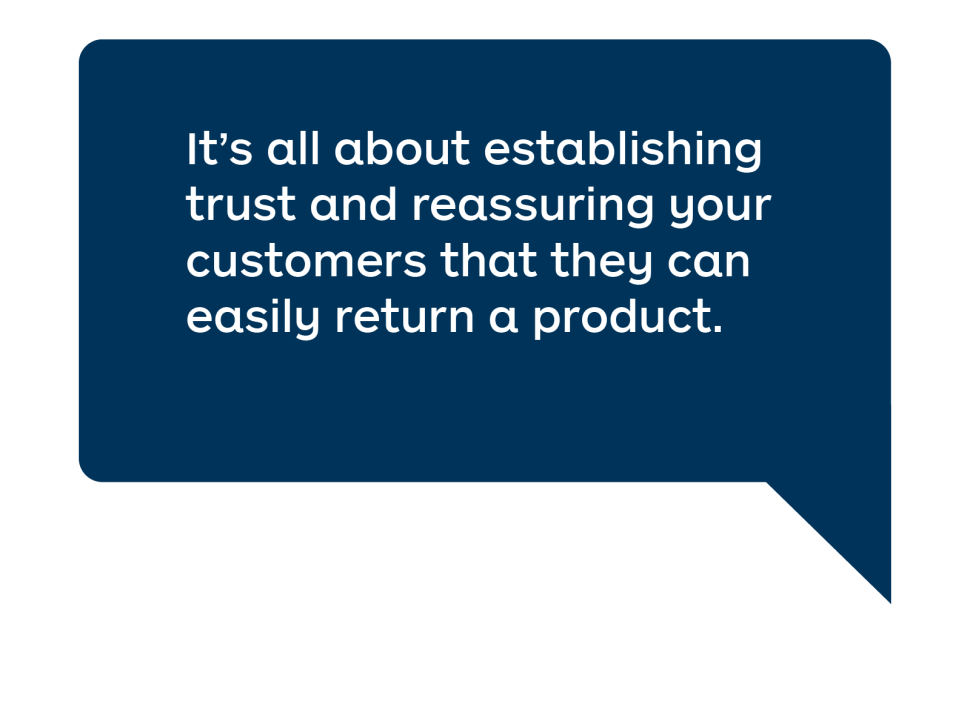 Clearly articulate how you manage returns, including things like:

Cost – who pays for the return shipping?
Returns period – how long does the customer have to return the product?
What can be returned – can a customer return anything? Or only faulty/damaged goods?
Process – do you include a returns label in every shipment? Where can they lodge their returns?
Tracking – how do you and the customer track the parcel on its way back to the warehouse?
If you have a stand-out feature in your returns policy – like Birdsnest's 365 day returns period – call it out on your home page as a feature. You'll be surprised at its selling power.
Managing the cost of returns
Some pureplay online retailers baulk at the thought of offering free returns. Often, the cost of returning a product outweighs the cost of simply letting the customer keep the item, and sending them a new one.
The good news is that consumers today are comfortable with the idea of paying for return shipping. They're even more comfortable if it's a flat rate – no-one likes to post back a book or pair of boots and be slugged with $20 or more in postage. Birdsnest has a flat rate of $7.95 and, according to Penny Carroll, Marketing Manager (or Branding Bird as she's called at this twittering retailer), it has paid off. The company now has an outstanding Net Promoter Score of 91.
"We listened to our customers' feedback about shipping costs, and worked hard to negotiate a flatrate with our freight company. It's all about making the returns process as hassle-free as possible," said Penny. "Up to 80% of our revenue comes from repeat customers, so if we actively encourage returns we know that the customer experience remains positive – and we retain our customer base."
When to refund the money
How quickly do you repay the customer when they return a product? Essentially, anything you can do to speed up the refund process is a win for the customer.
And a happy customer is a repeat customer. Using their delivery company's tracking system, many retailers now repay the customer as soon as the product is scanned in at the warehouse. This is particularly the case for repeat customers who have a strong and trusted relationship with the brand. If possible, be upfront about the speed of refund and reassure your customers that they'll get their money back within a certain period.
How to improve the customer experience
To make the returns process as convenient and hassle-free as possible, you need to put yourself inthe customer's shoes and think about their experience from the moment they open the parcel and realise they need to send the product back, to the moment they get the refund in their bank account.
The first thing they'll do is jump onto your website and check out your returns policy. Make sure it answers all their questions. Or, have a customer care team at the ready.
Then, they'll think about the logistics of sending back the parcel. Do they need to buy an envelope? Where do they send it? From where can they send it? Two-way, returnable packaging is now the norm for online retailers. These parcels may cost slightly more at the outset, but it means the customer can easily re-seal the package if they need to return an item.
Also, don't assume that your customers all have printers at the ready to print out a return label. Printers are going the way of the DVD player, with fewer households owning them. To alleviate the problem, look for a delivery partner that offers label printing as part of the returns service – or simply include return labels with all packages.
When it comes to posting the parcel, choose a freight partner that gives your customers more choice. StarTrack has 20,000 lodgement points around Australia – both in-store at Australia Post outlets and at the countless red post boxes dotted around the suburbs. This compares to just 1500 lodgement points for the next largest operator.
Remember, the easier it is for a customer to return a product, the more likely they are to make another purchase on your website.
Finding the right freight partner
The key to the success of your returns policy is working with a freight partner that understands the eCommerce industry and, fundamentally, knows what today's customers expect from their online retailers.
StarTrack works with retailers of all shapes and sizes, implementing tailored returns policies that strike the balance between customer needs and business requirements – and, above all, drive repeat business and bigger sales.