Where are your eCommerce leads coming from this Christmas?

In 2014, shoppers spent $45 billion in the lead-up to Christmas1, with 6.8% of sales occurring online in December2.  If you're an online retailer, then it's definitely worth asking where your sales are coming from this year.
Clues from Christmases past
There's no doubt that shopping behaviours are changing as consumers turn to online retail and smartphones to complete their Christmas shopping.
According to the NAB Online Retail Sales Index2, year-on-year growth in online retail has been fairly consistent. In December 2012, online purchases comprised 5.8% of the size of traditional retailing. By December 2013, this had grown to 6.5% and by December 2014, it was up to 6.8%.
With all the hype around online retail this year, will we see exponential growth this Christmas? Could online sales crack 8 or 9% of all sales? Whether it does or not, the fact remains that Australians now spend a huge amount online – and online retailers have a great opportunity to capture a piece of this pie.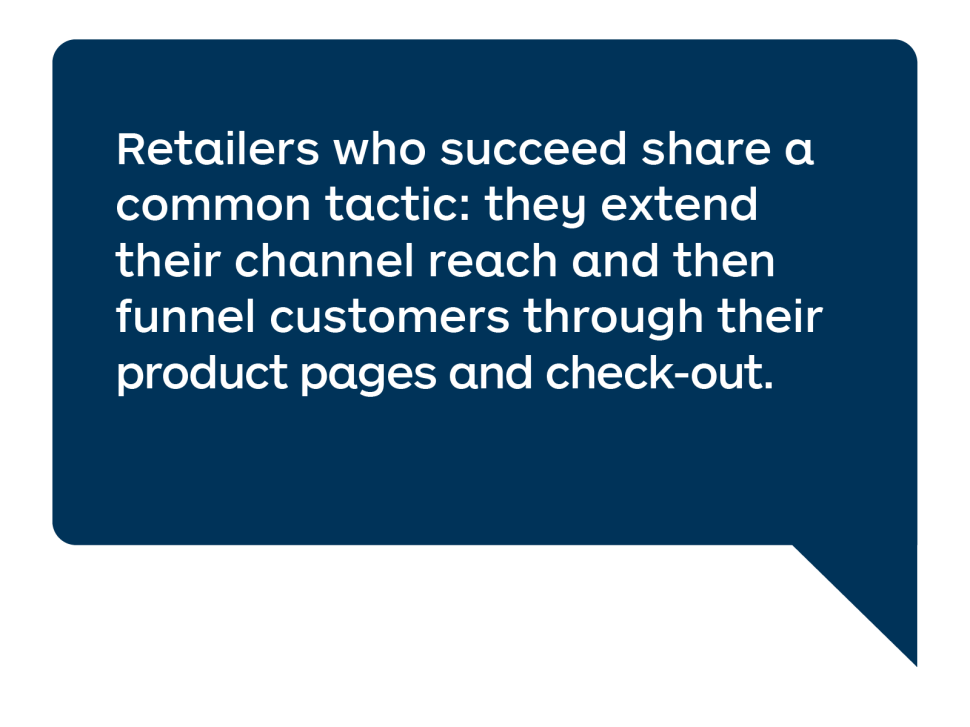 Finding your customers
To be competitive in the lead up to Christmas, you need customers. And to reach them, you need to know where they're coming from.
Given the constant evolution of online retail, it can be difficult to pin down stats about the places people are researching and buying online. Are they visiting branded websites, marketplaces like eBay or Amazon, or perhaps social sites like Facebook or Pinterest?
Even today, we see new buying behaviours develop within demographics – for example, younger people are much more likely to shop via social than any other group.
Retailers who succeed online share a common tactic: they extend their channel reach and then funnel customers through their product pages and check-out.
Where do your leads come from?
Whether you're selling via your website, social channel or marketplace store, you still need to drive traffic to your wares. Leading online retailers rarely rely on a single marketing tactic for results. They often put into place a whole toolbox3 of activities well before the festive season starts:
Search Engine Optimisation (SEO) – Get going with your SEO strategy as early as possible, to build your site authority and increase your search rank. Many leading eCommerce sites create dedicated seasonal pages to target specific categories – and even gift recipients – to maximise search engine results.
Marketplaces – If you've registered with a marketplace such as Amazon or eBay, you can reap the benefits of their sales histories to see what keywords and/or products are popular in the lead-up to Christmas (beware the fad gizmos though!). However, this opportunity is only open to registered users and many marketplaces temporarily suspend new seller applications during peak periods.
AdWords and pay-per-click – Product listing ads experience a large surge in the lead-up to Christmas, and for good reason. If you're quick, you could slip in an AdWords campaign and see if it makes a difference to your site traffic.
Email – If you have an established subscriber base, then you're in a very strong position. Email remains one of the most effective outreach tools, with 72% of email recipients opening and reading promotional emails4. For starters, create an email calendar and plan a scheduled attack on the countdown to Christmas.
Social media – While it's too early to say how this channel will deliver over Christmas, retailers with a strong social media following can still capture direct sales or simply push people to an online store.
Mobile apps – Research shows that many consumers prefer mobile apps to mobile web for shopping, saying they are more secure, and are better for navigation and regular purchases5. If it's too late in the year to create your own app, you can still benefit from this channel if your products are available on another provider's app.

Don't stop at leads
Once you've sorted out your leads and have customers funnelling in, it's important to make sure your eCommerce site performs for your Christmas crowds.
You can't put a value on good old fashioned customer service. If you're overwhelmed with enquiries (which is a good thing, right?) or noticing some hiccups, look for ways to remain in touch with your customers and consider expanding your capabilities next year. For example, set up a dedicated Christmas call centre or update your hardware.